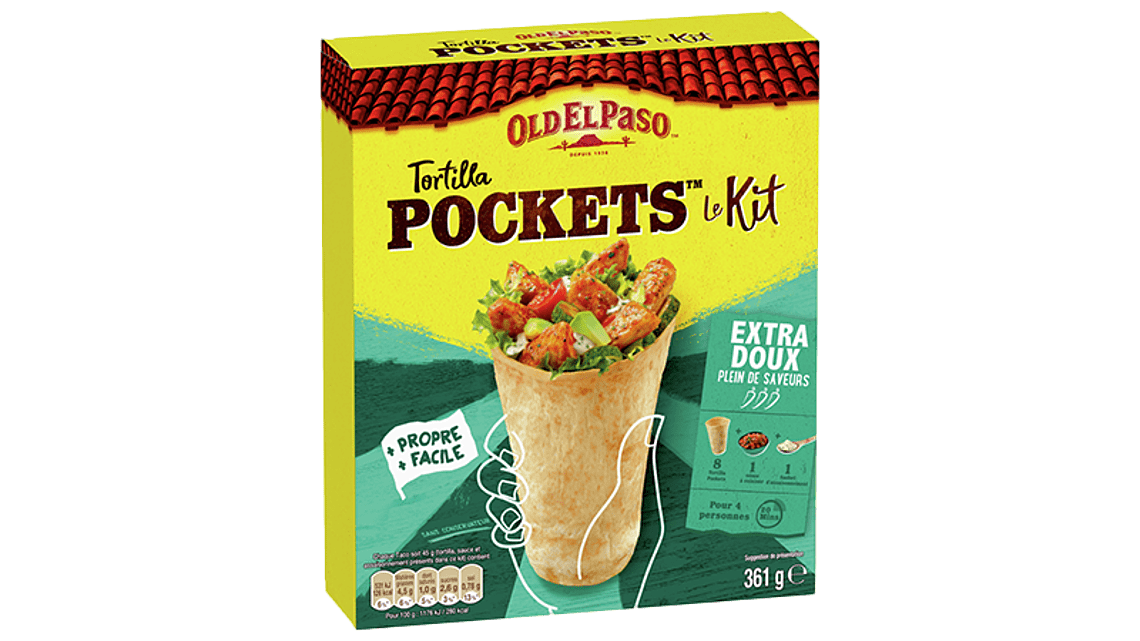 Kit Tortilla Pockets™ Extra Doux
Envie de fajitas faciles à préparer et à déguster ? Découvrez le Kit Tortilla Pockets™ Extra Doux pour profiter des saveurs du Mexique en famille.
Informations nutritionnelles
Informations nutritionnelles moyennes
Pour 100 g
1 portion (50g) contient
%* (50g)
Energie
274 kJ / 1150 kcal
123 kJ / 519 kcal
6%
Matières grasses
dont acides gras saturés
9.8 g
2.3 g
4.4 g
1.0 g
6%
5%
Glucides
dont sucres
38.5 g
6.5 g
17.4 g
2.9 g
7%
3%
Fibres alimentaires
1.8 g
0.8 g
-
Protéines
6.9 g
3.1 g
6%
Sel
1.73 g
0.78 g
13%
*Apport de référence pour un adulte-type (8400kJ/2000 kcal).
From time to time, reformulations of products may alter nutrient value, ingredients and/or allergens. Maintaining on-line information accuracy at all times can be difficult. In the event of a conflict between the data that is shown on this site and that which is on the package, the data on the package should be the primary resource for accurate and up to date data for the product in the package.
Wraps au poulet et aux légumes
Idéals pour un en-cas copieux, un déjeuner rapide ou un pique-nique, ces wraps au poulet et aux légumes croquants sont pleins de fraîcheur !
Voir la recette